What is the RCIA?
RCIA stands for the Rite of Christian Initiation of Adults. It may also be referred to as 'the Catechumenate.' It is a process of Christian formation offered to those who seek to become Catholic.
The initiation of new members is a gradual process allowing enquirers time to grow in faith and become full participants of the Catholic community. The catechumenal journey or RCIA process is marked by three major liturgical rites.* These rites act as key gateways along the way. Each major rite is preceded and followed by a period of maturing faith.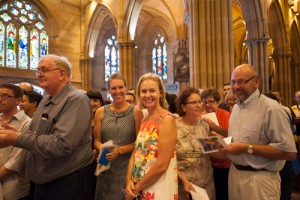 *Rite = the form and manner of religious observance or ceremony for the worship of God and the sanctification of humankind.